Diabetes pharmacological care and telemedicine research
2022-02-08 10:00:00
Research
Diabetes has emerged as one of the most serious and common chronic diseases of our times, causing life threatening, disabling and costly complications, and reducing life expectancy. [1] In light of personal stories from its members, CEOSz (National Association of Diabetes Associations) believes it is important to represent the interests of Hungarian diabetics as effectively as possible, utilizing objective, research-based evidence.
COVID-19 has significantly changed the way almost every aspect of our lives works, accelerating many processes that had already been started. Telemedicine, which was an essential part of health care in this period, was almost the only bridge between patient and doctor at times, but its effectiveness varied considerably both geographically and by speciality due to lack of actionable regulation and lack of experience.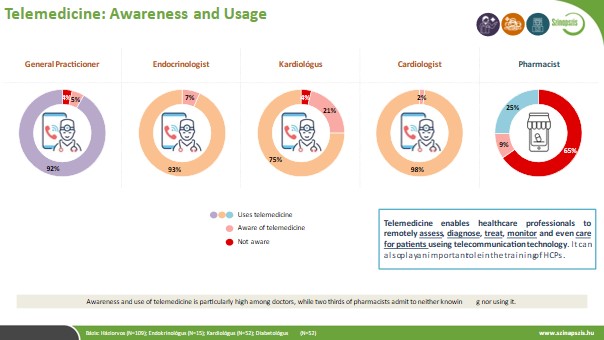 At the same time, the role of pharmacies and the expertise of pharmacists became more important, as in many cases they were the only health care professionals with whom patients could discuss their problems. The considerable pressure from patients in pharmacies, on the one hand, and the unclear competences in this situation, on the other, made it clear that the role of pharmacies goes far beyond that of a commercial entity, with considerable potential for both patients and pharmacies.
Szinapszis and CEOSz have therefore decided to continue the 2018 diabetologist, nurse and patient survey in the second half of 2021, this time asking an even wider range of healthcare professionals and patients about their experiences.
The target groups of the survey were patients with diabetes, pre-diabetes and pharmacists, pharmacy dispensers, general practitioners and specialists (diabetologists, endocrinologists, cardiologists). The survey covered all regions and settlement types in the country.
Following exploratory qualitative in-depth interviews and focus groups, a large sample representative survey was used to investigate the following topics:
Telemedicine: tools, channels and experiences from the past year in diabetes care

Serving and caring for diabetics in the pharmacy from the point of view of staff and patients

Cardiovascular risks of people living with diabetes: awareness, risk recognition and preventive practices

Pre-diabetes: disease awareness/diagnosis, familial information, prevention
Our study is available and CEOSz is supported by our partners through the purchase of the study. For more details, please contact us at laczko.krisztian@szinapszis.hu!